Terminals/Equipment
Mobile & Wireless

Taking Your Business Wherever You Want to Be
As technology continually evolves, many establishments now look to the ease and convenience of portable, handheld devices that communicate through the wireless networks.  From home delivery services, to construction work, to field sales, Clarity USA provides a complete range of wireless solutions to suit the needs of any mobile merchant.
Our Mobile/Wireless Solutions Include: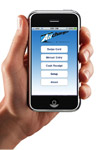 AIRCHARGE®
Does your product or service require mobility to service your customers? If so, the AIRCHARGE® Mobile Payments Suite is just the ticket for quick, secure and reliable on-the-go mobile payments processing!
Compatible with most leading cell phones, Androids, iPads, iPhones, and more
Wherever your phone can go, and wherever your business takes you, you'll be able to offer your customers secure credit card transactions. Used in conjunction with The AirBLUE Mini, a card reader and printer all-in-one, the AIRCHARGE payments solution provides real-time authorizations in the field and in the office.  And, because transactions are swiped, standard retail rates apply – which translates into lower discount rates than manually keyed transactions. 


AIRCHARGE is currently compatible with most 8000/9000 series BlackBerry® and Sprint (formerly Nextel) devices and operates with virtually all nationwide cellular networks.

Verifone Nurit 8020
The Nurit 8020 is a PCI PED-approved, ultra-flexible handheld device that enables fast, secure transactions for on-the-go merchants. The sophisticated multi-application platform supports a range of payment & value-added services – including credit, debit, EMV smart card, EBT, prepaid, loyalty and gift cards. The unit supports the GPRS cellular network. The device includes an easy-to-load thermal printer and built-in PIN Pad with touch screen and electronic signature capture.

Verifone Vx610
VeriFone's Vx610 delivers blazing performance, high-end functionality, and exceptional ease of use for mobile based merchants, such as restaurants and home delivery services.  The Vx610 is powered by a 32-bit processor for lightning-fast speed coupled with the latest wireless technologies, like GPRS, CDMA and Wi-Fi. In addition, this terminal includes an integrated printer and PIN pad. Vx610 Wireless Sell Sheet

Ingenico i7780
The i7780 is a portable transaction terminal that can accept debit and credit payments at the table, counter or wherever else it may be convenient to serve the customer.  As a compact and durable payment device, this terminal can be handed to the customer for secure and private PIN entry to complete a transaction. The optional Ethernet-enabled versatile base allows wireless connection of handsets directly into existing LAN's.
Ingenico i7780 Sell Sheet

Way Systems MTT 5000
As the name implies, the WAY Systems Mobile Transaction Terminal (MTT) 5000 solution is ideal for mobile merchants. This terminal combines mobile phone technologies with the capabilities of a point-of-sale (POS) terminal.  Through this device, you can accept payments anytime, anywhere. This device also comes equipped with an integrated PCI-PED compliant PIN pad for debit transactions.