Terminals/Equipment
Integrated Solutions – Retail and Restaurant

Retail and Restaurant Certified POS Software
Never miss a sale with Clarity! Our robust processing platform is compatible with numerous industry-leading point-of-sale systems. Whether you're a multi-lane retailer or a restaurant, we can help your establishment accept payments securely and seamlessly every time.
Through our certifications with leading software providers, you can turn virtually any computer into a reliable and secure payment processing engine.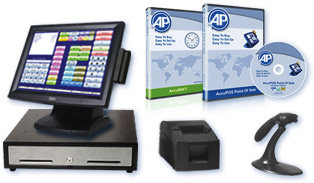 AccuPOS – Award Winning
Point-of-Sale Software
To offer the utmost in convenience, we've partnered with AccuPOS, a leading provider of retail and restaurant point-of-sale solutions.  As a cost-effective tool, AccuPOS combines POS software and hardware to provide an "all-in-one" touch screen solution that is easy to set up and easy to use. With AccuPOS, you receive fast and accurate payment processing. In addition, you can customize screens, run detailed transaction reports and much more.  And, AccuPOS integrates seamlessly with virtually all accounting packages, including leading accounting packages, QuickBooks and Peachtree Accounting.
Additional retail and restaurant POS certifications include Aloha, Squirrel POS, MICROS® , Aldelo Restaurant POS,  Verifone PCCharge™ Pro and IC VERIFY.
We continually review our certifications, so if you don't see your system listed, please check with your Clarity representative for details.